Gofobo Newsletter
Published 4-21-2017
---
Win a Trip to L.A. and Tickets to the King Arthur: Legend of the Sword Premiere!
Fans of the King Arthur legends (or just of Charlie Hunnam because let's be real…he's awesome) here is your chance to head to Los Angeles for the premiere of King Arthur: Legend of the Sword
. The sweepstakes will have one lucky winner and hurry because this one won't be open for long! King Arthur: Legend of the Sword is Guy Ritchie's latest film and stars Charlie Hunnam and Jude Law. Of course, Hunnam is in the title character, playing a reluctant king, while Law is the villain and evil king that Arthur must face off with to free his kingdom. Early screenings of the film are on high demand , so keep an eye out for those emails, but wouldn't it be even better to see it in Los Angeles?

The sweepstakes includes a flight for 2 to Los Angeles, hotel, a $100 Visa gift card for dinner and two tickets to the premiere of King Arthur: Legend of the Sword . This is a once in a lifetime opportunity and it could be all yours. All you have to do is enter on Gofobo's website to be a winner. And don't forget, by liking our social media you can have the option of more than one entry. Because who doesn't want more than one entry to win tickets to a movie premiere in L.A? I sure would want those extra entries!

So what are you waiting for? Head over to the sweepstakes page and enter to win this amazing trip! The sweepstakes is only open until May 3, so hurry, because you don't want to wait until last minute and miss out on your chance to go to L.A. and be amongst the stars!
---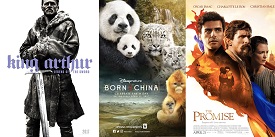 From Cute Animals to Action, Some Exciting Months for Movies
Are you ready for action? Are you ready for the big summer blockbusters to start hitting theaters? Well that time is finally here! With the release of The Fate of the Furious the summer movie season has gotten underway with a huge success in the box office. There's a lot of exciting movies following the release of The Fate of the Furious and you won't want to miss your chance of snagging passes to one of the exciting films that are releasing in the next month. But it's not just action that will be entertaining us this month, but also comedy and a little bit of suspense.

There's so many chances to get tickets to films this month, films the entire family can enjoy. From Born in China, Disney's latest animal film which is set to be released for Earth Day to King Arthur: Legend of the Sword a new take on the classic tale of King Arthur and his knights. But the film we know your most excited to hear we'll have screenings for is Alien: Covenant which hits theaters in May. But which of these movies will you get tickets for? That's up to you. Remember you have to be signed up to receive our emails for the best chance of getting tickets for that movie you desperately want to see. So subscribe and watch your email for the latest screenings! Below is the full list of film coming out in the next month that Gofobo will be offering early screenings to:

APRIL:
Born in China
Free Fire
The Promise (2017)
Unforgettable (2017)
The Circle (2017)
How to be a Latin Lover

MAY
Alien: Covenant
DIARY OF A WIMPY KID: THE LONG HAUL
Guardians of the Galaxy Vol. 2
Snatched
King Arthur: Legend of the Sword
---
We Are Giving Away an LA Movie Premier and More!
If the movie line-up we have this month doesn't get you excited, then the sweepstakes line-up sure will. We've got so many chances for you to win tickets to see the latest films early, plus our awesome merchandise sweepstakes that include some awesome prizes this month. From a chance to win dinner and a movie for two, movies and movie tickets, April is an exciting month for sweepstakes. And there's even a chance to win a trip to Los Angeles this month for a movie premiere, but we'll share that little sweepstakes with you in a bit.
First, we want to cover our current and exciting sweepstakes. Gofobo follows have the chance to win a copy of Office Christmas Party on Blu-ray , a dinner and a movie for two to Applebee's and AMC Theaters, a gift card to Cinemark and a copy of the hit movie Monster Trucks. You definitely want to enter to win one or all of these awesome giveaways, who doesn't like free movies anyways? That's why you're here. So, when you can't get those tickets you are dying for, here's your chance to get your hands on some awesome prizes for free!

The full list of sweepstakes is below:

Trip to L.A. and Tickets to the King Arthur: Legend of the Sword Premiere
Office Christmas Party on Blu-ray
Dinner and a movie ($50 gift card)
Cinemark Gift Card
Monster Trucks on Blu-ray